The objective of Pizza Frenzy is to quickly deliver the correct pizzas to customers. The game levels take place in a number of different locations, with each location having a unique topography, including two or more pizza kitchens. Each of these kitchens is responsible for producing and delivering pizzas with a specific topping. During gameplay, customers will appear with an icon representing a specific pizza topping they are calling to order. This icon must be clicked, and the player must then click the correct pizza kitchen in order to dispatch the needed pizza to the customer. If players take too long, or try to deliver the wrong pizza, the customer hangs up the phone, causing a decrease in overall customer satisfaction. If customer satisfaction dips low enough, the game ends.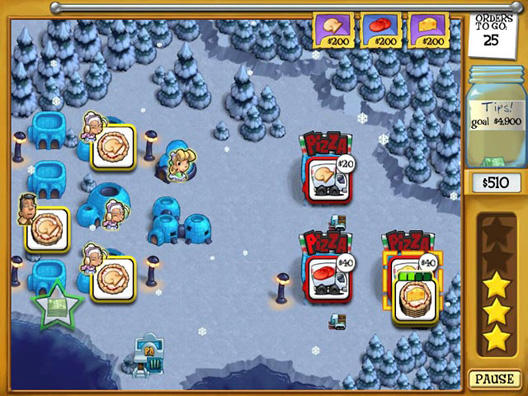 System Requirements
- Operating System: Windows 98/ME/2000/XP
- Processor: 500 MHz @ Intel Pentium 3 or Higher
- Memory: 128 MB @ Minimum or Higher
- Video Graphic: 32 MB @ Minimum or Higher
- Sound: Windows Compatible Sound Card
Join ke grup Gudang Gamers buat tanya tanya masalah mengenai game/link dengan KLIK DISINI!!